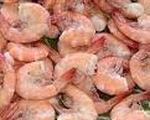 Prep: 10 min
Cook Time: 15 min
Total: 25 min
Serving: 5
Creamy Shrimp and Lettuce Soup is offbeat and delicious. The lettuce gives tihs hearty soup a fresh "green leafy" flavor.
Ingredients
1, 4 1/2 ounce can shrimp
1 head iceberg lettuce
1 medium onion, sliced
1 tablespoon butter
2 chicken bouillon cubes
1/4 cup heavy cream
1 teaspoon salt
1/4 teaspoon white pepper
Directions
Chill shrimp in can. Trim lettuce; remove the core and cut in quarters. Place in a soup kettle with onion and 2 cups water.
Cover and cook rapidly 5 minutes or until lettuce is wilted. Drain, reserving cooking water. To the water add butter and chicken bouillon cubes. Set aside.
Puree lettuce and onion in a blender; add the seasoned lettuce water, cream, seasonings shrimp and shrimp liquid from the can. Heat but do not boil.