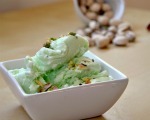 Prep: 15 min
Cook Time: –
Total: 15 min
Serving: About 8 1/2 cup servings
If a trip to Italy to enjoy an authentic cup of gelato is out of your budget, don't fret. You can still enjoy creamy, decadent gelato from the comfort of your own home! All you need is an ice cream maker and a few ingredients! The difference between ice cream that we are used to here and gelato is the custard like texture and the creaminess. The key to that amazing texture of authentic Italian gelato at home is through the use of pistacho flavored pudding!
Ingredients
1 cup 1% milk
3/4 cup white sugar
dash of sea salt
2 cups light cream
1 teaspoon vanilla extract
1 package pistachio flavored pudding
3 tablespoons finely chopped pistachios
Directions
In a large mixing bowl, mix sugar and milk together with a hand held mixer until sugar is completely dissolved. Once sugar is completely dissolved stir in cream, vanilla, salt and pudding and mix until fully combined.
Cover mix and let chill in the refrigerator for at least 2 hours. Once chilled, pour into an ice cream maker and let stir for 15 minutes, or until mixture is thick and creamy. Add in pistachios and let stir another 5 minutes. Enjoy immediately and freeze for up to 2 weeks!