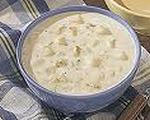 Prep: 30 min
Cook Time: 45 min
Total: 1 hr 15 min
Serving: 4
Creamy Oyster Stew is more than a soup, it's a hearty complete meal.
Ingredients
4 small carrots, chopped
2 turnips, chopped
4 small onions, chopped
4 celery stalks, chopped
1/4 cup parsley, chopped
2 heaping tablespoons flour
6 tablespoons butter
2 dozen oysters
2 cups milk, scalded
1 pint heavy cream
salt and pepper to taste
dash Worcestershire sauce
Directions
Saute vegetables in 2 tablespoons butter until golden brown.
In a double boiler make a cream sauce of 2 tablespoons butter, flour and scalded milk. Keep warm.
In an enamel saucepan put 2 tablespoon butter, oysters and juice, salt and pepper. Heat oysters until edges curl.
Add chopped vegetables to the cream sauce. Add heated cream sauce to the oysters. Add a dash Worcestershire sauce. Pour into individual bowls and sprinkle fresh parsley on top.