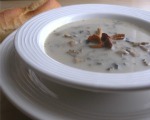 Prep: 15 min
Cook Time: 40 min
Total: 55 min
Serving: Serves 4 people
You can use just about any type of mushroom for this hearty, vegetarian soup. Crimini or wild mushrooms give Creamy Mushroom Soup a heartier flavor.
Ingredients
10 ounces of white or wild mushrooms
1 tablespoon vegetable oil
3 tablespoons butter
1 small onion, finely chopped
1 tablespoon all-purpose flour
1-3/4 cups milk
1-3/4 cup vegetable stock
Pinch of dried basil
Salt and pepper to taste
2-3 tablespoons half & half
Fresh basil leaves for garnish
Directions
Clean the mushrooms and separate the caps from the stems. Finely chop both the stems and the caps.
In a medium-sized skillet over medium-high heat, add the oil and half the butter. Next add the onion, mushroom stalks and half the mushroom caps. Fry together for a few minutes, stirring constantly. Cover and allow to sit over low heat for about 6-8 minutes, stirring occasionally.
Stir in the flour and cook for about a minute. Slowly add the stock and the milk, to form a smooth, thin sauce. Add the basil and season with salt & pepper. Bring all to a boil then simmer, partly covered, for about 15 minutes.
Allow the mixture to cool slightly then add it to a food processor or blender. Puree until smooth. Melt the rest of the butter in a saute pan and fry the remaining mushrooms for about 4 minutes (until just tender).
Pour the soup into a saucepan and stir in the sauteed mushrooms. Heat until very hot and add the cream. Serve in individual bowls garnished with fresh basil leaves.