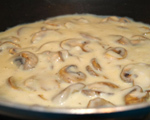 Prep: 5 min
Cook Time: 10 min
Total: 15 min
Serving: 4 Servings
Invest in good-quality cooking sherry to really add delicious flavor and depth to your sauces. You'll be happy you did once you taste the difference.
Ingredients
1 tablespoon olive oil
1 large shallot, finely chopped
8 ounces sliced mushrooms
1 tablespoon all-purpose flour
3/4 cup reduced sodium chicken broth
2 tablespoons dry Sherry
2 tablespoons sour cream
1 teaspoon fresh lemon juice
Directions
Place a large sauté pan over medium heat and add the oil.
After about 20 seconds, add the shallot and sauté for 2 minutes until soft, then add the mushrooms and cook for an additional 5 minutes.
Stir in the flour and cook for 1 minute before slowly adding the broth and mixing vigorously until the sauce starts to thicken.
Pour in the brandy and cook the mixture for an additional 1 minute, then stir in the sour cream, lemon juice and a few pinches of salt and pepper and mix well to blend. Serve immediately.