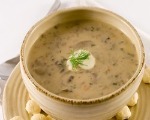 Prep: 10 min
Cook Time: 30 min
Total: 40 min
Serving: Serves 6 people
Creamy Mushroom & Fresh Ginger Soup combines the hearty mushroom flavor and the spicy seasonings make a delightful dish for dinner. Serve with a side of brown rice or steamed vegetables.
Ingredients
3 tablespoons olive oil
4 shallots, chopped
1 tablespoon finely chopped ginger
2 pounds, 4 ounces cremini mushrooms, chopped
4 cups vegetable stock
2/3 cup sour cream
2 tablespoons chopped, fresh parsley (for garnish)
Salt & pepper to taste
Directions
Use a large pan over low heat to heat the oil. Add the shallots and ginger and cook over low heat, stirring occasionally, for about 5 minutes (until the shallots are soft). Add the mushrooms and cook for 5-7 minutes, stirring often, until they release their liquid.
Add the vegetable stock and bring to a boil. Reduce heat and simmer for about 10 minutes.
Remove the pan from the heat and allow to cool for about 10 minutes. Add the soup to a food processor (in small batches) and puree.
Return the soup to a clean pan and stir in the sour cream. Season with salt & pepper to taste and reheat over low heat, stirring occasionally. When heated through, serve in individual bowls and garnish with parsley.