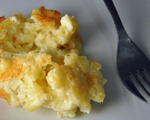 Prep: 25 min
Cook Time: 35 min
Total: 1 hr
Serving: Serves 4-6
This recipe turns classic macaroni and cheese into an elegant gourmet dinner party soufflé. Serve with a chilled Sauvignon Blanc and a crisp green salad.
Ingredients
1-1/2 cups scalded milk
1 cup soft bread crumbs
1-1/2 cups grated sharp cheddar cheese
1 cup cooked macaroni
3 large eggs, separated
1/4 cup diced pimento
1 tablespoon chopped parsley
1 tablespoon grated onion
3/4 teaspoon salt
3 tablespoons melted butter
Directions
Preheat oven to 350 degrees and butter a 1-1/2-quart casserole dish.
In a large bowl, pour the milk over the soft bread crumbs and sprinkle in the cheese. Let the mixture sit while the cheese melts.
In a medium bowl, combine the beaten egg yolks, pimento, parsley, onion, salt, and melted butter.
Add the egg mixture and the macaroni to the large bowl with the milk mixture; stir well.
Beat the egg whites in a medium bowl until they form stiff white peaks. Fold into the macaroni mixture and then empty into the prepared casserole dish.
Bake the soufflé for 35 minutes until puffy and golden.