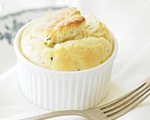 Prep: 25 min
Cook Time: 30 min
Total: 55 min
Serving: 6 Servings
The Creamy goat cheese mixed with fresh herbs in this light soufflé make it a perfect accompaniment to a baby greens salad with balsamic vinaigrette.
Ingredients
7 tablespoons grated Parmesan cheese
3/4 cup whole milk
3 large egg yolks
2 tablespoons (1/4 stick) butter plus extra for buttering ramekins
1/2 cup chopped red onion
1 teaspoon chopped fresh thyme
1/2 teaspoon chopped fresh rosemary
2 tablespoons all purpose flour
1 cup crumbled soft fresh goat cheese
3/4 teaspoon salt
1/4 teaspoon ground black pepper
Large pinch of cayenne pepper
4 large egg whites
Directions
Preheat the oven to 350 degrees and butter 6 3/4-cup ramekins. Sprinkle each ramekin with 1 tablespoon of Parmesan cheese and set aside.
In a medium bowl, whisk together the milk and the egg yolks until well blended. Set aside.
In a medium sauté pan, melt the butter and sauté the onion, thyme, and rosemary for 5 minutes.
Sprinkle in the flour and continue to cook for 1 minute before slowly pouring in the milk mixture and whisking to combine.
Continue to cook the mixture for 3 minutes and then remove from heat and stir in half of the goat cheese, the salt, pepper and the cayenne pepper. Stir until cheese has melted.
In a medium bowl, beat the egg whites until stiff and then fold 1/4 of the whites into the cheese mixture. Add the remaining goat cheese to the mixture as well as the remaining tablespoon of Parmesan, and then fold in the remaining egg whites.
Evenly divide the mixture between the ramekins and bake for 20 minutes.