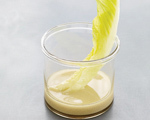 Prep: 10 min
Cook Time: 30 min
Total: 40 min
Serving: 8 servings
All-star chef Bobby Flay developed this low-fat salad dressing by cleverly substituting heavy mayonnaise for creamy roasted garlic purée. The result is a low-calorie Vinaigrette packed with robust flavor and bold taste.
Ingredients
15 medium unpeeled garlic cloves
1 tablespoon extra-virgin olive oil
1/4 cup white wine vinegar
2 tablespoons water
2 teaspoons Dijon mustard
1 teaspoon mayonnaise
1 teaspoon honey
1/4 teaspoon Worcestershire sauce
1/8 teaspoon Tabasco
1/3 cup olive oil
Sea salt and freshly ground pepper
Directions
Preheat your oven to 375 degrees.
Place the garlic on some aluminum foil, drizzle with 1 tablespoon of olive oil and then wrap the garlic in the foil. Put the garlic in the oven for 30 minutes to roast.
Once the garlic is cool enough to handle, squeeze each garlic tooth from its skin and place into a food processor. Add the vinegar, water, mustard, mayonnaise, honey, Worcestershire, Tabasco and a few pinches of salt and pepper and process the mixture until smooth.
With the processor's motor running, slowly add the oil and mix until blended; serve immediately.