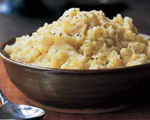 Prep: 30 min
Cook Time: 1 hr
Total: 1 hr 30 min
Serving: Serves 6-8
These mashed potatoes have an amazing aroma and light fluffy taste. Because the garlic is boiled, it provides sweet and subtle undertones that compliment the potatoes, instead of overpowering them.
Ingredients
2 garlic bulbs, separated into cloves, unpeeled
1/2 cup unsalted butter
3 lb baking potatoes
1/2-3/4 cup milk
salt and white pepper
Directions
Fill a small saucepan with water and bring to a boil over high heat. Drop in the garlic cloves and boil for 2 minutes. Drain and peel garlic.
In a sauté pan, melt half of the butter on low heat, and add the garlic. Cover pan and cook garlic for 20 minutes, stirring frequently to prevent garlic from burning. Garlic should be a golden color, not brown.
Remove garlic and butter from the pan and place in a food processor; blend to a smooth consistency.
Peel and quarter the potatoes and place in a large pot. Fill with enough water to cover potatoes and bring to a boil over high heat.
Let potatoes cook until tender, then drain and return to the pan. With a potato masher or food mill, mash potatoes to desired consistency .
Warm the milk in a small pan until bubbles form around the edges. Add the warm milk, remaining butter and reserved garlic puree to the potatoes and then season with salt and white pepper to taste.