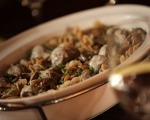 Prep: 10 min
Cook Time: 20 min
Total: 30 min
Serving: 6 servings
Stroganoff doesn't have to be incredibly fattening. This recipe uses turkey meatballs and nonfat yogurt to make it much more healthy than traditional stroganoff. The inclusion of whole grain noodles is also a big plus.
Ingredients
1 12-ounce package wide whole grain egg noodles
water for boiling
1 8-ounce package sliced fresh mushrooms
vegetable oil spray (preferably butter flavor)
1 tablespoon spreadable butter with canola oil
2 tablespoons all-purpose flour
1 cup reduced sodium or organic beef broth
1 16-ounce package frozen cooked meatballs (preferably turkey)
1 cup Dannon Oikos Greek Nonfat Plain Yogurt
1/2 cup low-fat 1% milk
1 tablespoon Dijon-style mustard
1/4 cup freshly chopped parsley (optional)
Directions
Cook the noodles according to package directions and drain.
Meanwhile, heat a large skillet over medium heat. Coat with vegetable oil spray and add fresh sliced mushrooms. Sauté 5 – 7 minutes until slightly browned.
Push mushrooms over to one side of pan. Melt butter tub spread over low heat on the other side of the pan and whisk in flour. Stir frequently for 2 minutes. Slowly add 1/4 of the broth to the flour while whisking to minimize lumps and blend completely. Whisk in remaining broth. Add meatballs and bring to a boil, stirring occasionally. Once boiling, reduce heat to low and simmer covered for 10 minutes.
In a small bowl, mix together the yogurt, milk, and mustard. Turn off the heat and move pan halfway off of the burner. Slowly stir the yogurt into the meatballs. Serve the meatball mixture over the cooked noodles. Optional: sprinkle with parsley.