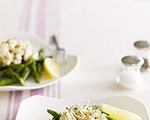 Prep: 10 min
Cook Time: 4 min
Total: 14 min
Serving: 4-6
This creamy crab and asparagus salad makes a gorgeous addition to a lunch or dinner party.
Ingredients
1 1/2 pound asparagus, quartered crosswise on an angle
1 tablespoon extra-virgin olive oil
Salt and pepper
2 tablespoons finely chopped chives
2 tablespoons mayonnaise
2 teaspoons fresh lemon juice, plus lemon wedges for serving
1 1/2 teaspoons ketchup
One 8-ounce container lump crab, picked through
Directions
Rinse the asparagus in a colander and leave wet. In a medium nonstick skillet, add the olive oil and asparagus and cook over medium heat until crisp-tender, 3 to 4 minutes. Season with salt and pepper.
In a medium bowl, stir together chives, mayonnaise, lemon juice and ketchup. Add the crab and toss gently to coat. Season with pepper.
Divide the asparagus among 4 plates and top with a mound of crab mixture. Serve with the lemon wedges.