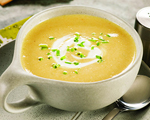 Prep: 15 min
Cook Time: 20 min
Total: 35 min
Serving: 4 Servings
A favorite among adults and kids alike, enjoy this satisfying soup as a main dish or serve as an elegant starter with a teaspoon of crème fraiche swirled on the top.
Ingredients
1/2 medium onion, chopped
1-1/2 cloves garlic, minced
1/4 cup chopped fresh parsley
1 tablespoon butter
3 tablespoons all-purpose flour
2-1/2 cups milk (whole or semi-skimmed)
1 cup chicken broth
2 (12 ounce) cans whole kernel corn
2 1/2 tablespoons cream cheese
1 teaspoon salt
1 teaspoon freshly ground black pepper
Directions
Combine the onion, garlic, parsley and butter in a large pot, and set over medium heat. Sauté stirring frequently for approximately 5 minutes or until onions become clear and soft.
Sprinkle the flour onto the mixture and stir well, making a thick paste.
Once the paste begins to bubble slightly, slowly pour in the milk and broth, whisking continuously in order to prevent lumps.
Add the corn, cream cheese, salt and pepper and stir until the mixture heats through.
Using a hand-held blender (immersion blender), puree soup until it reaches a smooth consistency. Serve immediately.