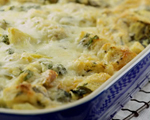 Prep: 5 min
Cook Time: 45 min
Total: 50 min
Serving: 8 Servings
Chicken Divan is a chicken casserole made with broccoli. Using canned soups in this recipe helps get this family favorite done and on the table in less than an hour!
Ingredients
2 (10 oz.) packages frozen broccoli
4 cooked boneless chicken breasts, chopped
Salt and freshly ground pepper
2 cans cream of chicken soup
1 teaspoon lemon juice
1/2 cup light mayonnaise
1/2 cup Greek-style yogurt
1 cup sharp American cheese, shredded
1/2 cup soft bread crumbs, mixed with 2 tablespoons melted butter
1 cup slivered almonds
Directions
Preheat oven to 350 degrees. Grease a shallow 2-quart casserole dish and set aside.
In a large pot boil salted water. Add the broccoli and cook until tender, about 5 minutes. Drain.
Spread the broccoli on the bottom of the casserole dish and spread the chicken on top. Sprinkle with salt and pepper.
In a large bowl, combine the soups, lemon juice, mayonnaise and yogurt. Mix well and then pour over the chicken.
Sprinkle the cheese, breadcrumbs and almonds over the chicken, and bake for about 25 minutes until cheese is bubbling and casserole in light brown.