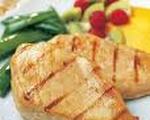 Prep: 35 min
Cook Time: 40 min
Total: 1 hr 15 min
Serving: 12
Creamy Chicken and Spinach Enchilada Casserole serves 12 and will sure to please a hungry crowd.
Ingredients
1 pound skinless, boneless chicken breasts
1, 14 ounce can chicken broth
1/2 teaspoon black pepper
8 cups fresh spinach, torn
1/4 cup green onion, thinly sliced
2, 8 ounce cartons sour cream
1/2 cup plain yogurt
1/4 cup flour
1/2 teaspoon salt
1/2 teaspoon ground cumin
1 cup milk
2, 4 ounce cans diced green chiles, drained
12, 8 inch flour tortillas
1 cup Monterey Jack cheese, shredded
1 cup tomato, chopped
1/4 cup green onion, thinly sliced
Directions
In a large skillet place chicken, chicken broth and 1/4 teaspoon black pepper. Bring to boiling; reduce heat. Cover and simmer for 12 to 15 minutes or until chicken is no longer pink. Drain well. When cool enough to handle, using 2 forks, pull meat apart into shreds. Set aside.
Steam spinach in a steamer basket for 3 minutes or until tender. Drain well.
In a large bowl combine the chicken, spinach and 1/4 cup green onion; set aside.
In a bowl whisk together sour cream, yogurt, flour, salt and cumin until smooth. Stir in milk and chili peppers. Divide sauce in half. Set 1 portion aside.
For Filling: Combine 1 portion of the sauce and the chicken mixture. Divide filling among tortillas. Roll up tortillas. Place, seam-side down, in two ungreased 2 quart rectangular baking dishes. Divide remaining sauce evenly between the two casseroles.
Bake, uncovered, at 350 degrees F for about 25 minutes or until heated through. Sprinkle with remaining cheese; let stand for 5 minutes. Transfer to a serving platter, if desired.
To serve, garnish with chopped tomato and additional green onions.