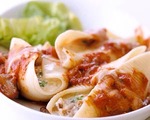 Prep: 20 min
Cook Time: 25 min
Total: 45 min
Serving: Serves 5 people
Creamy cheese and mushroom stuffed shells are a delight for dinner. Easy to put together and a hit with everyone.
Ingredients
1 cup pasta sauce, plus another 1/2 cup for garnish
1-1/2 cups shredded mozzarella cheese, divided
1, 15-ounce container of low-fat ricotta cheese
1/2 cup grated Parmesan cheese
3/4 cup chopped button mushrooms, stems discarded
1 egg, beaten
1 clove garlic, minced
2 tablespoons chopped fresh parsley
20 large pasta shells, cooked and drained
Directions
Preheat your oven to 400 degrees F.
Cook the pasta shells until they are al dente, or just until they are almost cooked through, drain them and set aside. Add the pasta sauce to a 13x9-inch baking dish.
Add 1/2 cup of the mozzarella cheese, ricotta cheese, parmesan cheese, parsley, mushroom, egg and garlic to a medium-sized bowl. Mix everything together.
Carefully spoon the mixture into each cooked pasta shell. Place them in the baking dish and cover them with foil. Bake for about 20 minutes, or until they are heated through.
Remove the cover and top them with the remaining mozzarella cheese. Bake uncovered for another 5 minutes, or until the cheese is melted. Warm the 1/2 cup of pasta sauce and serve on the side as additional topping.