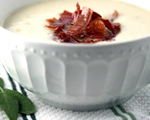 Prep: 10 min
Cook Time: 22 min
Total: 32 min
Serving: 4 Servings
Smooth and creamy cauliflower soup is topped with crispy pieces of crumbled Prosciutto, adding a salty and smoky taste as well as additional texture.
Ingredients
2 ounces prosciutto
1 teaspoon olive oil
1 onion, chopped
2 slices bacon, chopped
4 cloves cloves garlic, minced
1 tablespoon thyme leaves or rosemary leaves
1 small head of cauliflower, about 1 pound, cut into florets
2 cups reduced sodium, fat free chicken broth
1 cup skim milk
Directions
Cook the prosciutto in a skillet over medium-high heat until crispy. Remove from the pan and drain on paper towels. Once cool, crumble and then set aside.
In the meantime, place the oil in a large pot over medium-high heat. Once it begins to shimmer, add the onions, garlic, bacon, and thyme and sauté for 5 minutes.
Stir in the cauliflower, chicken broth, and milk and bring the mixture to a simmer over medium heat. Cook, covered, over low heat for 12 minutes and then puree the mixture using a stick blender.
Serve hot topped with the crumbled prosciutto.