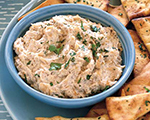 Prep: 1 hr 10 min
Cook Time: 6 min
Total: 1 hr 16 min
Serving: 30 (1 tablespoon) servings
This creamy spread is made with caramelized garlic and cheese. Serve with whole-wheat crackers or toasted pita wedges.
Ingredients
2 teaspoons butter
2 tablespoons coarsely chopped fresh garlic
1 teaspoon sugar
1 (8-ounce) package cream cheese, softened
1/4 cup butter, softened
1 (8-ounce) package (2 cups) cheddar cheese, shredded
1/4 cup sliced green onion
1/4 teaspoon salt
2 tablespoons chopped cilantro
Directions
Place the 2 teaspoons of butter in a small sauté pan over medium-high heat, and heat until bubbling.
Add the garlic and then sprinkle with the sugar. Cook the mixture for about 4 minutes, stirring constantly, until it begins to brown, and then transfer to a large bowl.
Add the cream cheese, 1/4 cup butter, cheddar cheese, green onion and salt to the bowl with the garlic mixture and beat with a mixer until smooth and creamy.
Transfer the spread to a serving bowl and then place in the refrigerator for 1 hour to chill.
Before serving, sprinkle the top of the spread with the cilantro.