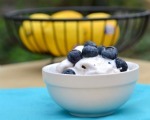 Prep: 1 hr 15 min
Cook Time: –
Total: 1 hr 15 min
Serving: 24 servings
What could be more delicious than a cup, cone or bowl of ice cream? A cup, cone or bowl of icecream that is tart, incredibly creamy, zesty and low-fat! This blueberry lemon ice cream is full of amazing flavors, like a tart, fruitiness from the blueberries and a citrus zing from the lemon and still has less than 5 grams of fat per serving! Using light cream and skim milk instead of regular, you save over 80 calories! Indulge and enjoy, guilt-free!
Ingredients
1 1/2 cups skim milk
1 cup white sugar
3 cups light cream
1 1/2 teaspoons vanilla
1 cup chopped blueberries
1 lemon, zested and juiced
Directions
In a medium mixing bowl, mix milk and granulated sugar with a handheld mixer until the sugar is dissolved, about 1 to 2 minutes. Stir in the heavy cream, lemon zest, lemon juice and vanilla. Gently fold in blueberries. Cover bowl with plastic wrap and chill for at least 1 hour.
Once chilled, remove from fridge and immediately pour into a frozen freezer bowl. Place the bowl onto the bottom of the ice cream maker and turn it on. Let ice cream thicken for about 20 minutes. Serve immediately or store in the freezer!