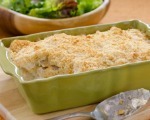 Prep: 15 min
Cook Time: 25 min
Total: 40 min
Serving: 4 servings
For a complete meal, serve with a tossed salad or with steamed broccoli.
SUBSTITUTION: Use 4 ounces of Neufchatel cheese instead of cream cheese and 1/2 cup Hellmann's or Best Foods Light Mayonnaise instead of Real Mayonnaise.
Nutrition Information per serving:
Calories 470, Calories From Fat 310, Saturated Fat 10g, Trans Fat 0g, Total Fat 35g, Cholesterol 110mg, Sodium 510mg, Total Carbohydrate 8g, Sugars 2g, Dietary Fiber 0g, Protein 31g, Vitamin A 10%, Vitamin C 6%, Calcium 10%, Iron 8%
Ingredients
1/2 cup crushed buttery crackers (about 12 crackers)
4 tablespoons grated Parmesan cheese
4 ounces cream cheese, softened
1/2 cup Hellmann's® or Best Foods® Real Mayonnaise
1 clove garlic, finely chopped
2 tablespoons finely chopped fresh parsley
1 pound boneless, skinless turkey cutlets or chicken breast halves, cut into bite-size pieces
Directions
Preheat oven to 400 degrees Fahrenheit. In small bowl, combine cracker crumbs with 2 tablespoons Parmesan cheese; set aside.
In large bowl, combine cream cheese, Hellmann's® or Best Foods® Real Mayonnaise, garlic, parsley and remaining Parmesan cheese. Toss turkey with cheese mixture. Turn into shallow 2-quart casserole, then sprinkle with bread crumb mixture.
Bake 25 minutes or until turkey is thoroughly cooked.