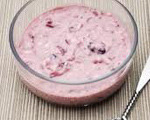 Prep: 1 hr 10 min
Cook Time: 15 min
Total: 1 hr 25 min
Serving: Makes about 3-1/2 cups
This vibrant-colored spread has a whole lot of flavor and a significant kick to it as a result of the ginger, horseradish and hot pepper sauce mixed into the blend.
Ingredients
1 (12-ounce) bag cranberries
2 sticks cinnamon
1 teaspoon grated fresh gingerroot
1 teaspoon hot pepper sauce
1 teaspoon prepared horseradish
1 (8-ounce) package cream cheese, at room temperature
Directions
Cook the fresh cranberries according to package directions, making sure to add the two sticks of cinnamon to the pan while cooking.
Strain the cranberries using a fine-mesh sieve and then place the solids into a bowl. Add the gingerroot, hot pepper sauce and horseradish, and mix well to blend.
Once the mixture has cooled to room temperature, stir in the cream cheese and mix well to combine. Cover the bowl and place in the refrigerator for 1 hour to chill before serving.