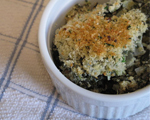 Prep: 15 min
Cook Time: 22 min
Total: 37 min
Serving: 4 Servings
Creamed Spinach is a classic steakhouse dish that goes well with grilled meats and broiled chicken. Enjoy this version that has a bacon and Parmesan cheese crust.
Ingredients
5 slices thick cut bacon
1/4 cup shredded Parmesan
3 bunches of fresh spinach
1/2 yellow or white onion, chopped
3 cloves garlic, minced
1/2 cup cream
1 tablespoon flour
2 tablespoon butter
Directions
Preheat the oven to 375 degrees.
In a large frying pan, fry the bacon until crispy. Remove from pan and place on paper towels to drain. Roughly chop and set aside.
In a large sauce pan, melt the butter and sauté the garlic until fragrant over medium heat, approximately 1-1/2 minutes.
Slowly sprinkle in the powder and continue to cook until the mixture becomes golden brown.
Zap the cream in the microwave for a few seconds to warm and then slowly pour into the pan whisking continuously. Once the mixture begins to bubble, add the spinach and cook for 3 minutes.
Transfer the spinach mixture to a baking dish and sprinkle on the bacon and then the Parmesan cheese. Bake in oven for 10 minutes and then serve immediately.