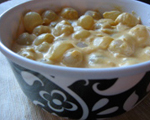 Prep: 15 min
Cook Time: 1 hr 5 min
Total: 1 hr 20 min
Serving: Serves 4-6
Creamed onions are a staple side dish for Thanksgiving and Christmas Day dinner. To all you non-traditionalists looking to add an extra 'zip' of flavor, stir in some stone mustard and Parmesan cheese to the sauce after adding the cream.
Ingredients
2 pounds white pearl onions, left unpeeled
1-1/4 teaspoons salt
3 tablespoons unsalted butter
1 tablespoon all-purpose flour
1 cup heavy cream or half-and-half
1/4 teaspoon black pepper
1/4 teaspoon freshly grated nutmeg
1-1/2 cups coarse fresh white bread crumbs
Directions
Preheat the oven to 350 degrees and butter a 2-quart baking dish.
Bring a 3-quart pot of water to boil and blanch onions for 1 minute. Remove onions from hot water, rinse under cold water, drain and peel.
Return the onions to the pot and sprinkle with 1 teaspoon of salt. Add enough fresh water to cover the onions by about 1-1/2 inches. Bring the onions to a boil and then reduce heat to medium-low and simmer for 20 minutes.
Remove the onions from the pot and drain in a colander. Empty into the prepared baking dish and set aside.
In a large saucepan, melt 1 tablespoon of the butter over medium-low heat and sprinkle in the flour. Cook the mixture for 1-1/2 minutes until bubbling. Slowly, pour in the cream, whisking continuously so as not to stick. Bring the mixture to a simmer and cook for 2 minutes.
Remove sauce from heat and stir in remaining 1/4 teaspoon salt and nutmeg. Pour cream sauce over the onions.
In a small sauté pan, melt the remaining 2 tablespoons of butter over medium-low heat and then add the crumbs, stirring to coat with the butter. Toast the crumbs for about 5 minutes or until golden.
Sprinkle the breadcrumbs over the onions and bake for 30 minutes.