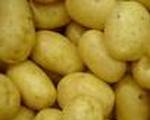 Prep: 10 min
Cook Time: 20 min
Total: 30 min
Serving: 4
Cream of Potato Soup with Rivvels is full of little dumplings.
Ingredients
1 large potato, cubed
1 quart milk
salt to taste
butter to taste
1 egg
2 cups flour
Directions
Cook potato in water to cover in large saucepan until tender. Add milk, salt and butter to potato and water. Heat slowly. Do not boil.
Combine egg and flour in bowl, working with fingers into very small lumps. Shake off excess flour and allow rivvels to dry briefly. Drop into hot soup. Cook until rivvels are done and soup is thickened, stirring occasionally. Add additional milk if needed.