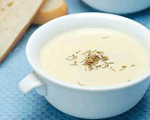 Prep: 5 min
Cook Time: 15 min
Total: 20 min
Serving: 2 Servings
Use a stick blender to process this soup, made with cream cheese, cream and onion, into a smooth and creamy puree. Serve with slices of French baguette.
Ingredients
1-1/4 cups cream cheese
1 cup half-and-half
1/2 cup milk
2 tablespoons olive oil
3 cloves garlic, minced
half an onion, chopped
1/2 cup water
salt and pepper to taste
1 teaspoon thyme and to garnish
Directions
Place the oil into a soup pan over medium heat and sauté the onions and the garlic for 4 minutes, stirring frequently.
Add the cream cheese, half-and-half and milk and bring the mixture to a boil, stirring constantly.