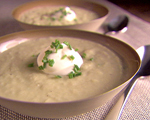 Prep: 30 min
Cook Time: 15 min
Total: 45 min
Serving: 4 Servings
This elegant soup is rich and creamy with a nutty bite and hints of garlic; the perfect soup course dish for your next dinner party.
Ingredients
1 jar (6 ounces) marinated artichoke hearts, coarsely chopped
3 large cloves fresh garlic, crushed
1/3 cup chopped onion
1/3 cup chopped leek, cleaned and diced (white part only)
2 tablespoons flour
2 cans condensed chicken broth
1 cup half-and-half
2 tablespoons brandy
Salt and white pepper
Finely chopped parsley and Crème fraiche to garnish
Directions
Drain marinade from artichokes and put into a large pot.
Add the garlic, onion and leek and bring to a boil. Once mixture boils, immediately reduce heat to low, cover, and cook for 10 minutes.
Pour one can of the chicken broth into a small bowl. Blend in the four until totally dissolved.
Slowly add the flour mixture to the garlic, leeks and onions. Bring to a boil, stirring continuously. Boil for 1 minute or until mixture thickens.
In a blender, add the hot mixture along with the artichokes and blend until smooth; return mixture to the pot and pour in second can of chicken broth, the half-and-half and brandy. Season with salt and pepper.
Heat soup only until heated through. Ladle soup into bowls and garnish with parsley and a dollop of Crème fraiche.