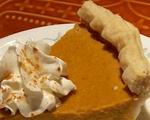 Prep: 10 min
Cook Time: 50 min
Total: 1 hr
Serving: 1 Pie
A slightly different take on a traditional pumpkin pie, but just as delicious!
Ingredients
2 cups canned pumpkin
1 (8-ounce) package cream cheese, softened
1 cup sugar
1/4 teaspoon salt
1 egg plus 2 egg yolks, slightly beaten
1 cup half-and-half
1/4 cup butter, melted
1 teaspoon vanilla extract
1/2 teaspoon ground cinnamon
1/4 teaspoon ground ginger
1/4 teaspoon ground nutmeg
1 premade pie crust
1 cup whipped cream, optional
Directions
Preheat the oven to 350 F.
In a large bowl, beat the cream cheese and pumpkin together with a hand mixer until well combined. Add the sugar and salt beating until smooth. Then add eggs mixed with the yolks, half-and-half, and melted butter. Beat until combined. Finally, add the vanilla and spices and beat until smooth.
Pour the filling into the premade pie crust and bake for 50 minutes or until a knife inserted in the center comes out clean. Place the pie on a wire rack and cool to room temperature for about 2 hours. Serve warm or cold and top with a dollop of whipped cream if you'd like.