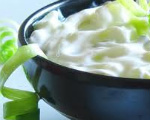 Prep: 4 hr 15 min
Cook Time: –
Total: 4 hr 15 min
Serving: 6 servings
Pretty and refreshing cream cheese and cucumber salad.
Ingredients
2 envelopes unflavored gelatin
2 1/2 tablespoons white wine vinegar
1/3 of a long English Cucumber, unpeeled
12 ounces cream cheese
salt and pepper to taste
6 egg whites
Directions
In a small saucepan, sprinkle gelatin over vinegar.
Dice cucumber or grate and liquify in a blender. Use a fork to soften the cream cheese and mix with the cucumber.
Heat gelatin on high until it dissolves, about 3-5 minutes. Stir into the cream cheese.
Beat egg whites until fluffy, stir into mixture. Add salt and pepper.
Pour into molds and refrigerate for 3-4 hours before unmolding and serving.