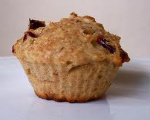 Prep: 15 min
Cook Time: 35 min
Total: 50 min
Serving: 12 muffins or 9" cake
Can be made as muffins or a cake, with a streusel topping.
Ingredients
3/4 cups all-purpose flour
3/4 cup whole wheat flour
1/2 cup packed brown sugar
1 tablespoon baking powder
1/2 teaspoon salt
2 cups cranberries, partially thawed if frozen
1 egg
1/2 cup butter or margarine, melted
1 grated orange rind
1/2 cup frozen orange juice
1/2 cup chopped nuts
Streusel Topping:
1/2 cup flour
1/3 cup packed brown sugar
1 teaspoon cinnamon
1/4 cup butter or margarine, melted
Directions
Mix all of the streusel ingredients together until crumbly.
Preheat oven to 400 degrees Fahrenheit. Grease 12 muffin cups, or a 9" square cake pan.
Mix the flour, sugar, baking powder and salt. Add in the berries and toss until coated.
Beat the egg with a fork, mix in juice and butter. Add until just moistened to the flour mixture.
Fill the muffin cups 2/3 full, sprinkle the streusel on top. Bake the muffins for 15-35 minutes. For the 9" cake, 30-35 minutes.