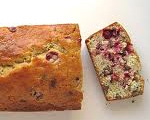 Prep: 20 min
Cook Time: 1 hr
Total: 1 hr 20 min
Serving: 1 loaf
Ingredients
2 cups unsifted flour
3/4 cup sugar
1 cup fresh coarsely chopped cranberries
1/2 cup coarsely chopped pecans
2 teaspoons baking powder
1/4 teaspoon salt
1 egg
1/2 cup apple cider or apple juice
1/3 cup mayonnaise (not diet)
Directions
Preheat oven to 350 degrees. Grease and flour a loaf pan.
Mix together the flour, sugar, cranberries, pecans, baking powder and salt in a large bowl.
In a small together, beat the egg with a form, then beat in the cider and mayonnaise. Add to the flour mixture, stir until moist.
Spoon into a loaf pan, bake for 1 hour. Allow to cool for 10 minutes, then remove from the pan to cool completely. Allow to sit overnight if possible. Seal tightly if freezing.