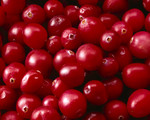 Prep: 30 min
Cook Time: 25 min
Total: 55 min
Serving: 10
Cranberry Orange Dressing is made with raisin bread and Brazil nuts.
Ingredients
1/2 cup butter
1/2 cup onion, chopped
1/2 cup celery, chopped
1 cup Brazil nuts, chopped
2 cups fresh cranberries, washed and sorted
1/2 cup sugar
1/2 cup orange juice
1 tablespoon orange peel, grated
2, 1 pound loaves raisin bread
1 1/2 teaspoons salt
1/2 teaspoon poultry seasoning
1/2 teaspoon dried savory leaves
1/8 teaspoon black pepper
Directions
Preheat oven to 350 degrees F.
In a medium skillet, melt butter and saute onion, celery and Brazil nuts about 5 minutes.
Add cranberries, sugar and orange juice and peel; cook over medium heat, stirring constantly until cranberries start to pop. Remove from heat and let stand 20 minutes.
Cut bread slices into 1/2 inch cubes to measure 10 cups. Spread cubes on a cookie sheet and place in oven for 5 minutes. Toast lightly.
Turn cubes into large bowl. Add salt, poultry seasoning, savory and pepper; toss to mix. Add cranberry mixture; toss lightly until well mixed.
Use to fill prepared turkey. Makes 12 cups, enough to stuff a 16 pound turkey.