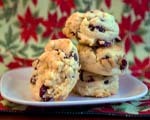 Prep: 15 min
Cook Time: 14 min
Total: 29 min
Serving: Makes 4 dozen cookies
These zesty cookies are quite popular during the Christmas season. Make them for large family gatherings or for gift-giving.
Ingredients
1 cup butter
1 cup sugar
1/2 cup brown sugar
1 egg
1-1/2 teaspoons grated orange rind, divided
5 tablespoons orange juice, divided
2-1/2 cups flour
1/2 teaspoon baking soda
1/2 teaspoon salt
2 cups chopped cranberries
1/2 cup chopped nuts
1-1/2 cups powdered sugar
Directions
Cream butter, sugar and brown sugar.
Beat in egg; blend well.
Stir in 1 teaspoon orange rind and 2 tablespoons orange juice.
In a separate bowl, combine flour, baking soda and salt.
Blend flour combination into orange mixture.
Fold in cranberries and nuts.
Drop by teaspoon onto prepared baking sheets.
Bake at 375 degrees for 12-14 minutes.
Mix together remaining orange rind, orange juice and powdered sugar until mixture becomes smooth.
Spread over top of cooled cookies.