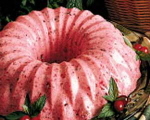 Prep: 15 min
Cook Time: 5 min
Total: 20 min
Serving: 8 servings
Cranberry Mousse is a tangy, sweet delicious treat that can be served with any poultry or pork. Don't just save it for the holidays.
Ingredients
Crushed Pinapple (20 ounce can, drained and juice saved)
Strawberry Jello (6-ounce package)
Water (1 cup)
Whole Cranberry Sauce (1-pound can)
Lemon Juice (1 tablespoon)
Ground nutmeg (1/4 teaspoon)
Sour Cream (2 cups)
Chopped Pecans (1/2 cup)
Directions
Combine pinapple juice and water in a saucepan. Bring to boil and then remove from heat.
Add Cranberry Sauce, lemon juice, and nutmeg
Chill in refrigerator
Fold in sour cream, pinapple and nuts.
Chill overnight in a covered bowl.