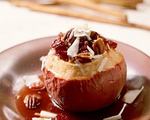 Prep: 20 min
Cook Time: 1 hr
Total: 1 hr 20 min
Serving: 8 Servings
For a healthier take on baked apples, try this recipe next time you need a dessert everyone will remember.
Ingredients
2 1/2 cups cranberry juice cocktail
1/2 cup maple syrup
1/4 cup firmly packed light brown sugar
1 teaspoon honey
2 teaspoons grated peeled fresh ginger
1 teaspoon ground cinnamon
1 teaspoon cornstarch
1 teaspoon vanilla extract
8 Rome apples
1/4 cup chopped pecans
1/4 cup shaved white chocolate
3/4 cup dried cranberries
Directions
Preheat oven to 375 F. Combine first 8 ingredients. Mix well and set aside.
Core apples making sure to leave bottom part intact. Then peel top half of each apple and place in a baking dish. Fill centers of apples evenly with cranberries and pecans. Pour syrup mixture over apples.
Bake for 1 hour or until apples are soft, basting apples twice with sauce from pan. Before serving, sprinkle with white chocolate shavings.