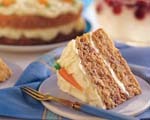 Prep: 15 min
Cook Time: 35 min
Total: 50 min
Serving: 24 People
This sweet and moist cake uses cranberries instead of raisins, giving it an unexpected twist. Top with your favorite cream cheese frosting before serving.
Ingredients
2 cups flour
2 teaspoons baking soda
1 tablespoon baking powder
2 teaspoons cinnamon
1/2 teaspoon ginger
1/4 teaspoon salt
1-1/2 cups sugar
1 cup mayonnaise
3 eggs
2 teaspoons vanilla
2 cups grated carrots
1 8-ounce can crushed pineapple, with juice
1/2 cup chopped pecans
3/4 cup dried cranberries
Directions
Combine flour, baking soda, baking powder, cinnamon, ginger and salt.
Cream sugar, mayonnaise, eggs and vanilla; mix well.
Blend flour combination into egg mixture.
Fold in carrots, pineapple, pecans and cranberries.
Pour into a greased 9x13 baking dish.
Bake at 350 degrees for 30-35 minutes.