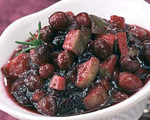 Prep: 10 min
Cook Time: 10 min
Total: 20 min
Serving: Makes about 3-1/2 cups
A sweet and tart relish that adds vibrant color and intense flavor to classic pork, turkey and chicken dishes, prepare this recipe one day in advance to allow the flavors to meld together.
Ingredients
1 12-ounce package cranberries (3 cups)
3/4 cup apple juice
1/2 cup sugar
1 tablespoon lemon juice
1 teaspoon dried minced onion
1/2 teaspoon dried rosemary, crushed
2 medium pears, cored and chopped (2 cups)
Directions
Place the cranberries, apple juice, sugar, lemon juice, onion, and rosemary into a large saucepan over medium-high heat and bring to a boil. Once boiling, reduce the heat to medium and cook the mixture for 6 minutes.
Stir in the pears and continue to simmer the mixture for an additional 2-1/2 minutes. Transfer to a bowl and serve once the relish has cooled.