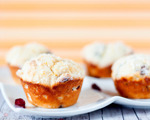 Prep: 10 min
Cook Time: 18 min
Total: 28 min
Serving: Makes 18 standard muffins
Enjoy these moist and delicious cranberry and orange muffins topped with an orange zest and sugar topping.
Ingredients
1-3/4 cups all-purpose flour
3/4 cup whole wheat flour
2 tablespoons wheat germ
2 teaspoons baking powder
1/2 teaspoon baking soda
1 teaspoon sea salt
1 cup granulated sugar
2 large eggs
1 stick unsalted butter, melted and cooled slightly
3/4 cup plain whole-milk
2-1/2 tablespoons freshly-squeezed orange juice
1-1/2 teaspoons vanilla extract
2 cups fresh (or frozen) cranberries
zest of 1 orange
For Topping:
zest of 1/2 orange
1/4 cup turbinado sugar
Directions
Preheat your oven to 400 degrees Fahrenheit, and line 18 muffin cups with paper liners.
Put the orange zest and the turbinado sugar into a small bowl and stir well; set aside.
Place the all-purpose flour, wheat flour, wheat germ, baking powder, baking soda and salt into a bowl and mix to combine.
In another bowl, whisk the sugar and the eggs together until thoroughly combined, and then slowly add the melted butter, milk, orange zest, orange juice and vanilla, whisking vigorously until blended.
Fold the wet mixture and the cranberries into the dry mixture, making sure not to over mix the batter. Transfer the batter to the prepared muffin tin and then sprinkle the tops with the orange zest and sugar topping. Bake the muffins for 18 minutes, or until just firm to the touch, and then cool for 5 minutes prior to serving.