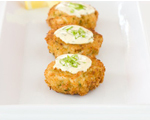 Prep: 3 hr
Cook Time: 8 min
Total: 3 hr 8 min
Serving: Makes about 24 crab cakes
The secret is in the sauce; substituting half of the mayonnaise for Greek yogurt makes the Caper sauce much lighter and adds a pleasant tang.
Ingredients
For the sauce:
1/2 cup mayonnaise
1/2 cup Greek yogurt
2 tablespoons olive oil
1-1/2 tablespoons fresh lemon juice
1/2 cup drained capers, coarsely chopped
1/2 cup chopped fresh parsley
1/2 cup chopped fresh chives
Sprinkle of salt and pepper
For the Crab Cakes:
1-1/2 pounds crabmeat
1 cup plus 2 1/2 cups fresh breadcrumbs
1/4 cup chopped fresh parsley
1/4 cup spicy brown mustard
1/4 cup mayonnaise
1 large egg, beaten to blend
2 teaspoons Old Bay seasoning
Sprinkle of salt and pepper
1/2 cup or more vegetable oil (for frying)
Directions
To make the Caper sauce, whisk together the mayonnaise, yogurt, oil, lemon juice, capers, parsley, chives and the salt and pepper in a large bowl and then place, covered, in the refrigerator to chill until serving.
To make the crab cakes, place the crabmeat, 1 cup of the breadcrumbs, the parsley, mustard, mayonnaise, egg and seasoning into a large bowl and mix with a fork to combine.
Place the remaining breadcrumbs in a shallow bowl and set aside.
Using your hands or an ice-cream scoop, form the crab mixture into small rounded patties and then dip into the breadcrumbs and place on a large plate. Continue until all of the crab mixture has been used up, then cover the plate of patties and refrigerate for at least 3 hours.
In a medium-sized sauté pan, heat the oil over medium-high heat until hot but not smoking. Fry the crab cakes for 4 minutes per side and then transfer to a serving plate along with the caper sauce. Serve immediately.