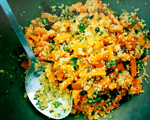 Prep: 15 min
Cook Time: 5 min
Total: 20 min
Serving: 4 Servings
Couscous is very light and versatile, and is a great substitute for rice or even pasta when you're looking to make something new and different.
Ingredients
1-1/2 cups couscous
1 tablespoon unsalted butter, melted
1-1/2 cups boiling water
1/4 cup plain Greek yogurt
1/4 cup olive oil
1 teaspoon white Balsamic vinegar
1 teaspoon curry powder
1/4 teaspoon ground turmeric
1-1/2 teaspoons sea salt
1 teaspoon freshly ground black pepper
1/2 cup small-diced carrots
1/2 cup minced fresh flat-leaf parsley
1/2 cup dried currants or raisins
1/4 cup blanched, sliced almonds
2 scallions, thinly sliced
1/4 cup small-diced red onion
Directions
Place the couscous in a large bowl and pour over the melted butter. Cover the bowl and soak the couscous for 5 minutes, and then fluff with a fork.
In a small bowl, mix together the yogurt, olive oil, vinegar, curry, turmeric, salt, and pepper and then pour over the couscous. Mix well until combined.
Sprinkle in the carrots, parsley, currants, almonds, scallions, and red onions and toss.