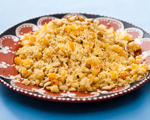 Prep: 10 min
Cook Time: 12 min
Total: 22 min
Serving: 4 Servings
This side dish of fluffy couscous is complimented by sweet dried apricots and buttery toasted pine nuts.
Ingredients
1/4 cup pine nuts, about 1-1/2 ounces
2 tablespoons olive oil
1 cup chopped onion
1/4 cup dried apricots, finely chopped
3/4 cup plain couscous
1 cup vegetable broth
Salt and freshly ground pepper
Directions
Toast the pine nuts by placing into a large saucepan with the olive oil over medium-low heat and cook, stirring frequently, for 4 minutes until golden and fragrant. Remove the nuts and set aside.
Add the onion and sauté for 3 minutes, then stir in the dried apricots and cook the mixture for an additional 2 minutes.
Pour in the broth and add a few pinches of salt and pepper, then bring the mixture to a boil.
Stir in the couscous, cover the pan and remove from the heat. Let stand for 5 minutes, and then sprinkle in the toasted pine nuts and fluff the mixture with a fork.