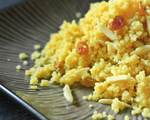 Prep: 20 min
Cook Time: 14 min
Total: 34 min
Serving: 4 Servings
A wonderful Moroccan-inspired dish that can be served as a side to grilled chicken or fish, or enjoyed as a main course.
Ingredients
3 tablespoons olive oil
1 cup sliced blanched almonds
3 cloves garlic, finely chopped
1 teaspoon sweet paprika
1 teaspoon ground cumin
1 teaspoon ground coriander
1 teaspoon hot red pepper sauce
2-1/2 cups vegetable stock
2 cups cooked chickpeas, rinsed and drained
1 cup chopped raisins
1-1/4 quick cooking couscous
Sea salt and freshly ground pepper to taste
1/4 cup chopped fresh cilantro
Directions
In a large sauté pan, heat the olive oil over medium heat and add the almonds. Cook for about 2-1/2 minutes until golden.
Add the garlic to the pan and sauté for 1 minute, before sprinkling in the paprika, cumin, coriander and hot pepper sauce.
Cook the mixture for an additional 1 minute and then add the broth, chickpeas and the raisins to the pan. Increase the heat to medium-high and bring the mixture to a boil.
Once boiling, add the couscous, cover the pan and remove from heat. Let stand for 6 minutes and then remove cap, sprinkle with salt and pepper, and fluff the couscous with a fork. Garnish with the cilantro and serve.