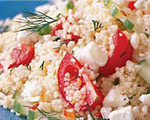 Prep: 10 min
Cook Time: 12 min
Total: 22 min
Serving: 4 Servings
To give the chicken even more flavor, prepare the fresh lemon juice, garlic and oregano vinaigrette in advance, add the chicken and marinate until the couscous is ready.
Ingredients
1 cup couscous
1 cup shredded chicken
1/2 cup chopped red onion
1/2 cup sliced ripe olives
2 tomatoes, sliced
1/4 cup chopped fresh dill
1/3 cup olive oil
1/4 cup lemon juice
2 cloves garlic, crushed
1/2 teaspoon dried oregano
Sea salt and freshly ground pepper
1/2 cup (2 ounces) crumbled feta cheese
Directions
Cook the couscous according to package directions, fluff with a fork and then set aside to cool.
In the meantime, whisk the olive oil, lemon juice, garlic, oregano and a few pinches of salt and pepper together until thoroughly blended.
Transfer the cooled couscous to a large bowl and then add the onion, olives, tomatoes, dill and chicken. Pour in the prepared dressing and then gently toss to combine. Top with the crumbled feta cheese and serve immediately.