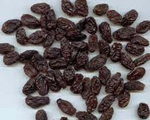 Prep: 15 min
Cook Time: 50 min
Total: 1 hr 5 min
Serving: 10
Say "Top o the morning" to a slice of County Clare Soda Bread.
Ingredients
1 cup of plumped raisins
4 cups flour
1 cup sugar
2 1/2 cups buttermilk
1 teaspoon baking powder
1 teaspoon baking soda
1 teaspoon salt
1 stick butter, softened
Directions
Heat a small saucepan of water and plump raisins for 5 minutes. Grease 2 loaf pans.
Preheat oven to 325 degrees F. In a large mixing bowl, knead the butter into the flour. Add salt, baking soda, baking powder and sugar. Drain the raisins and add to mixture.
Slowly add the buttermilk using a stiff spatula. Mix well and place equal amounts into the 2 loaf pans. Bake for 50 minutes or until inserted toothpick toothpick comes out clean. Remove bread from pans and cool completely on a wire rack.