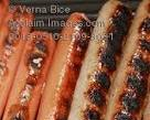 Prep: 5 min
Cook Time: 25 min
Total: 30 min
Serving: 6
Choose your favorite hot dogs to make Country Dog Sandwiches.
Ingredients
1, 16 ounce package hot dogs, cut into 1/4 inch slices
3 tablespoons butter
1 large onion, sliced
1 medium green pepper, thinly sliced
1 medium red pepper, thinly sliced
1/4 teaspoon basil
2 eggs, beaten slightly
1/4 teaspoon salt
3, 6 inch pitas
6 large lettuce leaves
Directions
In 10 inch skillet over medium-high heat, cook hot dogs until browned on all sides, stirring frequently. Remove hot dog slices to large bowl.
In same skillet over medium heat, in hot butter, cook onion, peppers and basil until vegetables are tender, stirring occasionally. With slotted spoon, remove vegetables to large bowl with hot dogs. In drippings remaining in skillet over medium heat, cook eggs and salt, stirring until eggs are set. Return hot dogs and vegetables to skillet; heat.
To serve, cut each pita crosswise in half. Place a lettuce leaf in each half; then fill with hot dog mixture.