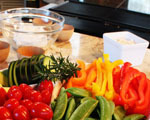 Prep: 5 min
Cook Time: –
Total: 5 min
Serving: 4 people
This cottage cheese veggie dip is a perfect accompaniment for crisp vegetables.
Ingredients
1/2 cup BREAKSTONE'S or KNUDSEN 2% Milkfat Low Fat Cottage Cheese
1/4 tsp. lemon pepper seasoning
1/2 cup each baby carrots and snow peas
Directions
Process cottage cheese and pepper in food processor until smooth.
Serve with vegetables.
Nutrition Information Per Serving: 30 calories, 0.5g total fat, 0g saturated fat, 0g trans fat, less than 5mg cholesterol, 130mg sodium, 3g carbohydrate, less than 1g dietary fiber, 2g sugars, 3g protein, 35%DV vitamin A, 6%DV vitamin C, 4%DV calcium, 0%DV iron. Exchange: 1/2 Starch Dietary Exchanges (or Exchange Calculations) based on Choose Your Foods: Exchange Lists for Diabetes © 2008 by the American Diabetes Association and the American Dietetic Association.