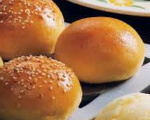 Prep: 15 min
Cook Time: 20 min
Total: 35 min
Serving: 8-10 rolls
Similar taste to yeast rolls, delicious with breakfast or soup.
Ingredients
1 cup cottage cheese
1 egg
3-4 tablespoons milk or buttermilk
5 tablespoons oil
2 cups flour, sifted
1 tablespoon baking powder
1/8 teaspoon baking soda (only is using buttermilk)
1 teaspoon salt
1 egg yolk
poppy seeds or caraway seeds for topping (optional)
Directions
Preheat oven to 400 degrees Fahrenheit. Grease a baking sheet.
Beat the cottage cheese, egg, milk and oil together.
Sift together the dry ingredients and add in to the cottage cheese mixture.
On a floured surface knead until smooth. Shapes into 8-10 rolls.
Place on the prepared sheet and brush on the egg yolk. Slice the top of each roll with a knife. Sprinkle with the seeds if desired.
Bake for 20 minutes, or until golden.