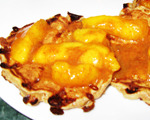 Prep: 15 min
Cook Time: 45 min
Total: 1 hr
Serving: Serves 4
An elegant brunch favorite, these cottage cheese pancakes with peach melba sauce are fit for a Queen.
Ingredients
1 10-ounce jar red raspberry jelly, seedless
1 29-ounce can sliced cling peaches, drained
1/4 cup butter
1 cup flour, sifted
1 teaspoon baking powder
1/4 teaspoon salt
1/4 cup sugar
4 eggs
1 16-ounce container cottage cheese
1/3 cup milk
Directions
Make Peach Melba Sauce: In saucepan combine raspberry jelly with butter; cook, stirring until mixture comes to a boil; add drained peaches and keep warm.
Sift flour with baking powder, salt and sugar.
In a large bowl, with electric mixer at medium speed, beat eggs until fluffy; add cottage cheese, then flour mixture and milk alternately, until well mixed.
Pour 1/4 cup batter into hot, greased 10-inch skillet, spreading batter evenly. Cook slowly until underside is light brown, then, turn pancake to cook the other side.
Keep pancakes warm, covered in foil on a baking sheet, at 200 degrees F.
Serve pancakes on a platter and pass Peach Melba Sauce.