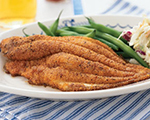 Prep: 15 min
Cook Time: 7 min
Total: 22 min
Serving: 4 Servings
A healthy and quick fish recipe for an instant weeknight dinner the entire family will enjoy.
Ingredients
1/4 cup nonfat buttermilk
2 teaspoons Dijon mustard
1/2 cup cornmeal
1 teaspoon salt
1 teaspoon paprika
1 teaspoon onion powder
1/2 teaspoon garlic powder
1/2 teaspoon dried thyme
1/2 teaspoon cayenne pepper
1/2 teaspoon freshly ground pepper
4 catfish fillets
Directions
Prepare the broiler and lightly grease a wire oven rack with cooking spray or cooking oil.
In a medium bowl, combine the buttermilk and mustard and mix until combined.
In a shallow bowl, mix together the cornmeal, salt and paprika, onion powder, garlic powder, thyme, cayenne pepper and black pepper.
Dip each fish fillet into the buttermilk mixture and then dredge in the cornmeal mixture, pressing firmly to adhere.
Place each fish on the wired rack and cook for 3-1/2 minutes per side, flipping once. Remove from the oven and serve immediately.