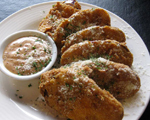 Prep: 45 hr
Cook Time: 6 min
Total: 45 hr 6 min
Serving: Serves 2
Hot and crunchy slices of eggplant, coated with cornmeal and Parmesan, are wonderful as a side dish or served alone.
Ingredients
1 eggplant
1/2 cup cornmeal
1/4 cup Parmesan shredded
1 teaspoon garlic salt
1 teaspoon pepper
2 tablespoons olive oil
2 tablespoons butter
Italian parsley, chopped, to garnish
Directions
Peel the eggplant and then slice into 1/2-inch thick slices. Sprinkle each slice with salt and then put them between paper towels for 45 minutes.
Heat a large sauté pan and add the olive oil and the butter.
Mix the Parmesan and cornmeal in a shallow bowl and sprinkle with salt and pepper. Dredge the eggplant slices and then add to the sauté pan.
Sauté the slices for about 3-4 minutes on both sides, or until golden brown. Transfer onto a serving plate, sprinkle with some chopped parsley and serve immediately.