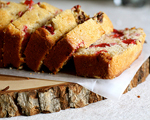 Prep: 35 min
Cook Time: 1 hr 10 min
Total: 1 hr 45 min
Serving: 1, 9-inch loaf
This bread is a wonderful treat served with a cup of hot black tea or perfect for breakfast, toasted with a pat of butter.
Ingredients
Butter or nonstick cooking spray to grease pan
1 cup unbleached all purpose flour
1 cup whole wheat flour
1 cup medium-grind whole grain cornmeal or regular cornmeal
1/2 cup sugar
1-1/2 teaspoons salt
1-1/2 teaspoons baking powder
1-1/4 cups buttermilk
1/2 cup (1 stick) unsalted butter, melted
1/2 cup pure maple syrup
2 large eggs
1/2 teaspoon maple extract
3/4 cup chopped pecans plus 10 pecan halves for garnish
3/4 cup dried cranberries (about 4 ounces)
Directions
Preheat the oven to 350 degrees and grease a 9x593-inch loaf pan with butter or cooking spray.
In a large bowl, whisk the flours, cornmeal, sugar, salt and baking power together to combine.
In another bowl, mix together the buttermilk, melted butter, maple syrup, eggs, and extract until well blended, and then add to the flour mixture, stirring until just mixed.
Sprinkle in the 3/4 cup of the pecans and the cranberries and then pour the batter into the prepared pan. Sprinkle the remaining pecans on top and bake the bread until golden and a knife inserted in the center tests clean, about 1 hour and 10 minutes.
Cool the bread for 20 minutes before serving.